Waterco Trimline Cartridge Filter (Water Polisher)
Compact and Versatile Filtration, these Waterco Cartridge Filters are designed to give years of trouble-free service.
The 30 micron Waterco Cartridge Filter utilises a specially treated polyester fabric, which is pleated into a cartridge.

The pleating gives it an extremely large surface area. The Waterco Cartridge Filter is ideal for ponds where backwashing may not be practical, cleaning simply involves lifting out the cartridge and rinsing it.
Waterco Trimline Cartridge Filter Features include:
One piece molded high impact polypropylene construction
In built air bleed - eliminates air build up in tank
Industrial strength filter fabric
Self-centering cartridge mount
Fixing Unions
Easy to read Pressure Gauge
1 1/2" /50mm Half union inlet/outlet
Available in 3 models: CC50, CC75 , CC100
Warranty: 10-year conditional tank warranty and 1 year warranty on all other components, excluding the cartridge.
Waterco Trimline Cartridge Filter Specifications: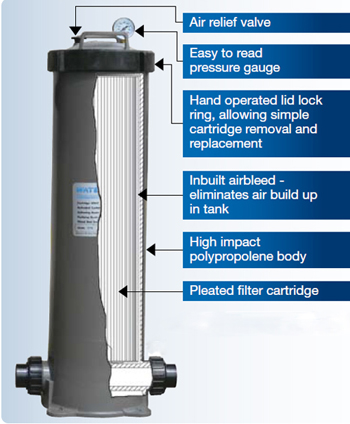 Working Pressure (all models): 3.5 Bar/50 psi
Waterco Trimline Cartridge Filter CC50
Total height: 605mm
Max. Flow rate (gph): 2500
Max. Pond size: 60m3
Waterco Trimline Cartridge Filter CC75
Total height: 720mm
Max. Flow rate (gph): 3600
Max. Pond size: 90m3

Waterco Trimline Cartridge Filter CC100
Total height: 970mm
Max. Flow rate (gph): 5000
Max. Pond size: 120m3