Absolute Koi are proud to introduce the New Blue Eco Pumps with exclusive True sine wave technology.
The brand new Blue ECO Titanium pumps are the most ECO friendly electric pumps produced. They utilise brushless DC electric motor technology, and have an efficiency rating of 94.6% - this compares with normal electric motors with have an efficiency of 45 - 50%. The power and therefore energy consumption is fully adjustable from 10 - 100% of full power, so when reducing the R.P.M the energy consumption reduces accordingly. The pumps produce very little heat as 94% of the energy used goes to turn the impellor, which makes them ideal for dry applications.

The New Blue Eco Pumps have an efficiency up to 94.6 %. The New Blue Eco Pumps are whisper quite and come complete with seperate control unit.
Available in 240 watt, 320 watt, 500 watt, 900 watt, 1500 watt.
The New Blue Eco Pumps are marine water resistant and can be used submersible and also in dry circumstances, even the controller is watertight. The controller display's power used in watts, rpm and running hours.
The New Blue Eco Pumps have dry running protection with life time bearing guarantee.

Blue Eco Pumps can be regulated from 0 up to maximum and even a 1500 watt Pump can run at an efficiency of over 90% at 35 watt and will take the same energy as a small pump and produce even more water.
All bigger pumps can be delivered with an adjustable impeller to improve also the efficiency in all circumstances.
The New Blue Eco Pumps have been tested in practice for over one year by independent customers with 0 % failure.
The New Blue Eco Pumps come complete with controller and 10 meter marine and chlorined water resistant cable.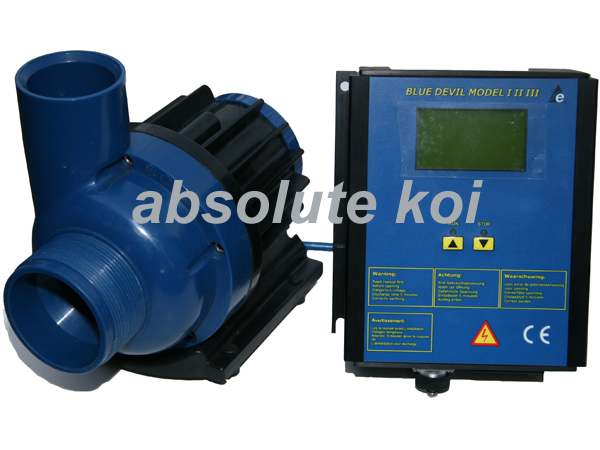 The New Blue Eco Pumps with an efficiency of 94.6 % are the only pumps at this moment world wide that work with True sine wave for better starting in difficult circumstances. True sine wave Blue Eco Pumps have a enormous starting torque.
| Model | Max Gph/m3 | Inlet | Outlet | Watts | Max Head |
| --- | --- | --- | --- | --- | --- |
| Blue Eco Pump 240 watt with Variable external electronics | 5060 / 23 | 63 mm | 63 mm | 10 - 240 | 7 m |
| Blue Eco Pump 320 watt with Variable external electronics | 5500 / 25 | 63 mm | 63 mm | 10 - 320 | 9 m |
| Blue Eco Pump 500 watt with Variable internal electronics | 9240/ 42 | 63 mm | 63 mm | 10 - 500 | 11 m |
| Blue Eco Pump 900 watt with Variable external electronics | 10560 / 48 | 63 mm | 63 mm | 10 - 900 | 13 m |
| Blue Eco Pump 1500 watt with Variable external electronics | 15400 / 79 | 63 mm | 63 mm | 10 - 1500 | 20 m |
Blue Eco Pump Applications:

Given the fact that these pumps are suited for dry and wet use makes them extremely versatile for all kinds of applications: ponds, swimming pools, (marine) aquaria, industrial, etc. Saving energy is and becomes more and more important. A nice example of using the Blue Eco Pump is for bead filter system. In filter mode, a low R.P.M. position can be used to save energy for 99,9% of the time! Only during backwash the full power of the Blue Eco Pump will be used for a effective backwash procedure.
Can be used dry or submersible
Blue Eco Pump have no seals
Have a hollow shaft for flushing
Silicone O-rings
Can be used in pure marine water
Pumps are tested for over 1 year in extreme circumstances
Tested in factory for hours before delivery with an exlusive report for each pump
Complete with 10 meter of high quality water resistant cable
Made of plastic, marine waterproof
All our pumps are Tru sine wave technology developed by Toshiba and Siemens
Control Unit shows Power Used (watts) hour counter and rpm
Basket prefilters can be screwed on directly on the pump
All pumps have rubbers for the feet.
Fully CE approved for save operation
2 years garantee

The Blue Eco Pump 240 watt Pump takes only 10-15 watt at 300 rpm and have an efficiency of over 90%, furthermore the Blue Eco Pump500 and 900 watt pumps have an efficiency of even 94%
The bearing system of 500, 900, 1500 watt pumps are all exactly the same and thanks to True sine wave technology our starting torque is extremely high starting at 0 rpm.
The Blue Eco Pump 500 and 900 watt pumps can be software protected against running dry (extending bearing life) The Blue Eco Pump controller has programmable timers for programming only one time for every season and also Cruise control of the pump.
Blue Eco pumps are provided with an unbreakable shaft of titanium and all bearings are made of silicium carbide added with 15% carbon, the Rotors are made of titanium and Carbon (3 times stronger than steel)
We have been advised today that all Blue Eco Pumps will be going up 20 % in the very near future, please order before this official price increase is put in place by the manufacturer !