The Aquadyne Bead filters have been engineered specifically for koi ponds and water gardens. The Aquadyne is available in four sizes, the secret to the Aquadyne bead filters, is that they feature a central diffuser column that reduces internal friction loss.
The Aquadyne Bead filter design has no internal elbows, and allows maximum water flow under the most abusive feeding practices. The Aquadyne Bead filter supports colossal amounts of fish AND delivers GIN CLEAR water, without flow restrictions.
We cannot foresee a more perfect bead filter being introduced than the Aquadyne Bead filter . The best part of the Aquadyne is it's unique plumbing which allows water to bypass the filter completely, for medication purposes. The rinse cycle in the Aquadyne is an absolute must, as there is absolutely no "brown dirt cloud" after a backwash.


| Aquadyne Model | Pond Size | Bead Media | Height | Flow(gph) | Dia | Max Pressure |
| --- | --- | --- | --- | --- | --- | --- |
| Aquadyne 1.1 B | 3000 gall | 1.1 Cubic feet | 87 cm | 1000-2300 | 46 cm | 50 Psi |
| Aquadyne 2.2 B | 6500 gall | 2.2 Cubic feet | 107 cm | 1500-3400 | 62 cm | 50 Psi |
| Aquadyne 4.4 C | 12000 gall | 4.4 Cubic feet | 117 cm | 1500-5000 | 76 cm | 50 Psi |
| Aquadyne 8.8 C | 24000 gall | 8.8 Cubic feet | 122 cm | 3500-7000 | 92 cm | 50 Psi |
Ponds up to 3000 Gallons: (£130.00 Saving)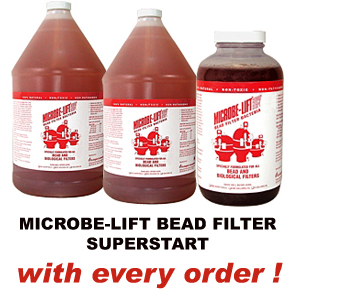 Aquadyne 1.1 B
Ultrasieve Midi
Ponds up to 6500 Gallons: (£160.00 Saving)
Aquadyne 2.2 B
Ultrasieve III
Ponds up to 12000 Gallons: (£210.00 Saving)
Aquadyne 4.4 C
Ultrasieve III